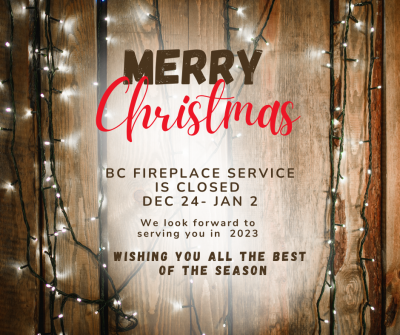 Wishing everyone a safe and happy Holiday Season.
We are grateful to continue to be welcomed into your home and given the opportunity to make your home warm and cozy! Our staff will be taking time off to honor all the season's traditions. We will be closed Dec 24- Jan 2.
If you have a gas emergency, please call FortisBC 24-hour Emergency Line at 1-800-663-9911 or call 911.
Some seasonal tips, to ensure a safe and festive holiday season:
If you have a living Christmas tree top up the water every day!
Do not leave lights on while unattended.
Keep your tree a safe distance away from your fireplace: at least 3′.
Keep your fireplace and furnace vents clear (especially if they exhaust on a side wall). Keep them clear of debris, clutter, and snow (if we get any).
Install a carbon monoxide detector in the same room as your gas fired appliances.
Check your smoke detector batteries.
Make sure to leave cookies and milk for Santa – and carrots for the reindeer!
Stay safe, and we wish you all the best this holiday season and a joyous New Year 2023.